New DEO Feature – Select by Basin
AAPG Datapages has updated the Datapages Exploration Objects™ (DEO) web client to version 1.2.3.
The new version addresses several bugs and continues to improve our class leading performance. A new feature, "Select by Basin" was added in this version. Thank you to our subscribers for suggesting it!
In addition to drawing on the map, exploration objects may now be selected by clicking a basin displayed on the map. The new function may be found on the Selection Tools menu. It will turn the basins on, if not already, then find all the objects within the selected basin.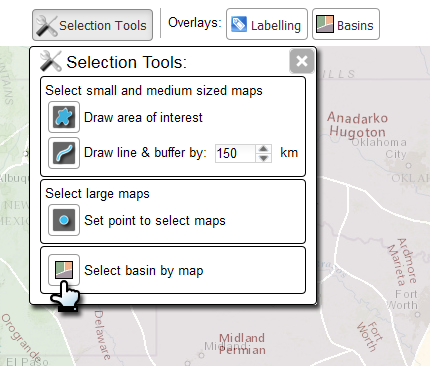 The Robertson Tellus Sedimentary Basins are provided by CGG Data Services as part of the Datapages GIS Open Files program. The basin layer may also be accessed as an ArcGIS Online Service. More information regarding CGG products and services may be found on the CGG Data Services, AG website.
Datapages Exploration Objects™ provides georeferenced exploration objects at the click of a mouse. No other product can save you as much time and money. For DEO subscription information, simply click here.