New DEO Dataset from North Texas Geological Society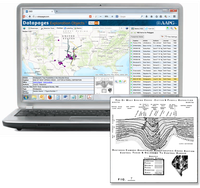 AAPG Datapages has added to the Datapages Exploration Objects™ (DEO) database a new dataset from the North Texas Geological Society.

Covering a wide variety of oil and gas-related geological features and formations in the U.S. states of Texas, Oklahoma, Arizona, Utah, Colorado and Kansas, the newly added dataset contains 175 maps and 100 section locations.
Maps and sections included in the dataset are available for download from DEO in the image format of the subscriber's choice: jpeg, .png or .tif. Each has been geo-referenced (with lat./long. values assigned) and is delivered with industry-standard GIS support files.
North Texas Geological Society (NTGS) was founded in 1923 in Wichita Falls, Texas just six years after the organization of the American Association of Petroleum Geologists (AAPG) in 1917. NTGS is a member society of the Southwest Section of the AAPG – and one of nearly 50 current AAPG Datapages Content Partners.
For more information about NTGS, visit the society's website: www.ntgeologicalsociety.org
For DEO subscription information, simply click here.